Our Founders - Graham and Pat Stubbs and our heritage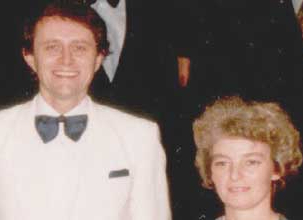 It was with great sadness that we heard of the untimely death of Graham Stubbs, founder member of the choir and its first Musical Director. Graham was an inspiration to all who knew him and guided the choir from its infancy to maturity. His musical knowledge and expertise led the choir to new heights and to challenging competitions and massed concerts as well as many memorable European tours. His wife Pat completed the team as a talented and sensitive accompanist and it is to Pat and the family that we extend our love and sympathy. As long as Tenby Male Choir exists, Graham Stubbs will be remembered with pride, respect and great affection.
The funeral was held at Parc Gwyn Crematorium, Narberth on Friday 27 March 2015

Tenby Male Choir was founded in 1975 by Graham Stubbs, who became its first musical director. Aided by his wife Pat, as the choir's accompanist, Graham led the choir for almost 23 highly successful years. In 1998, Graham handed over the baton to Claire Harrison, who in turn was replaced by Christine Shewry in 2000. Christine served with distinction until November 2006. Our fourth and current MD, Ian "Wilbur" Williams has been with us since January 2007. He works closely with our accompanist Jill "no relation" Williams. Together they form an inspirational team, who have greatly developed the choir's musical confidence and dynamic range of performance, making the singing fun and fulfilling. The choir is also grateful to its vice-president, Dr John Harrison, for his support, encouragement, and additional accompaniment on the organ. John is director of music at St Mary's Church Tenby, one of our principal venues.

The choir has travelled extensively at home and abroad, performing in Churches, cathedrals and concert halls. Overseas destinations have included Holland, Gibraltar, Ireland,Yugoslavia, Malta, Gran Canaria, Romania and Italy . Since its founding, the choir has competed in many competitions and eisteddfodau. It was finalist at the Welsh Association of Male Choir Competition twice, winning the Tumble Eisteddfod on eight occasions and Cardigan on three occasions. It has appeared five times at the Royal Albert Hall Massed Choir concerts, most recently in April 2009.

Over the years, the choir has been privileged to introduce to audiences many talented, local, young people, who are or were students at local schools, in particular The Greenhill School Tenby, which serves south-east Pembrokeshire. Under the guidance of Paul Rapi, Head of Music and Drama, (formerly the choir's assistant MD,) the school constantly nurtures a considerable wealth of new talent. We are much indebted to these "rising stars", their parents and teachers.