Tenby Male Choir - Officials and Committee
President
Wynne Evans BEM MStJ
Chairman
Terry Evans
Click here to email
Imm Past Chairman
Geoff Horton-Jones
Vice Chairman
Treasurer
Gavin Wright
Click here to email
Secretary
Mike Slade
Click here to email
Music Director
Paul Rapi
Click here to email
Ass't Music Director
Miranda Morgan
Accompanist
Jill Williams

Committee Members

Charlie McFee
John Butland
Gavin Wright
Terry Williams
David McDermott
Tony Key
David James
Roger Stephens
Kevin Morgan
David Stewart-Walvin
Private Hire?
The choir are available for Private Hire - Weddings, Functions and Conferences
As one of Pembrokeshire's premier Male Voice Choirs, we pride ourselves on entertaining clients and guests with a concert repertoire than can be tailored to individual requirements - in Welsh, in English or in both
Requests for Concert and Private Bookings should be made in writing by email to the Secretary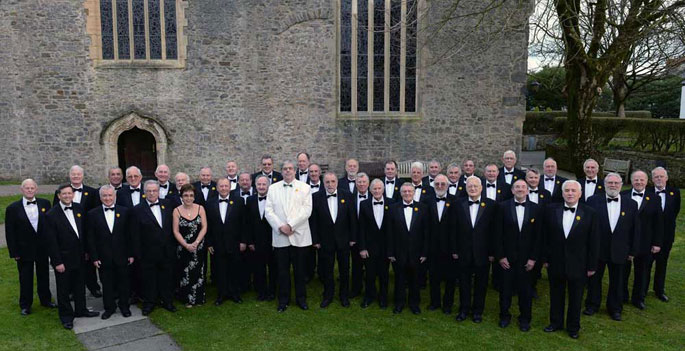 Friends of Tenby Male Choir

Would you like to help your local choir and at the same time enjoy social evenings? The "Friends of Tenby Male choir" is a group which is small in number at the moment but which we hope to build up.

There are always things to do in a choir apart from singing and sometimes the load on singing members to do these extra things is great. They not only have concerts and other engagements but of course have to rehearse as a group and practice at home.

For this reason any sort of help is greatly valued. However, we don't just want it to be about that we want also to make this a social group who meet to have a bit of fun on a regular basis. Although the group has been around for a long time and has always been valued it has been mainly comprised of the choir members' wives and partners and is small. It is early days and there are open minds to what we do. There is no commitment if you get in touch but if you think you might like to help and or enjoy just the social part of this then why not contact us to find out more.

Music Friends


This comprises people who have sponsored individual pieces of music, sometimes in memory of loved ones.

Application for a music piece sponsorship can be made via the Secretary by email

Name
Piece
Dedication
Eric Mullins
Take Me home
From Ina, Rita and Eric
in memory of their parents
Margaret Mellin
Gwahoddiad
In memory of Mary Gwalchmai
The Evergreen Nomads
Dashenka the Gypsy
To Tenby Male Choir
Eric Brown
Evening Prayer or Troytes Chant
In loving memory of Joan, who first brought me to the Choir
Edna Lawrence
Myfanwy
For Des Lawrence who loved to
sing, from his loving wife and
family who miss hearing him sing
Mollie Neate
She Was Beautiful [Cavatina]
To my beautiful girls, Amanda, Penny and Megan
Lyn Symes
Softly as I Leave You
In loving memory of Fred, whose
life was the Choir from the
beginning.
Sheila John
Morte Christie
In loving memory of Jack
Sue, Gill and Richard
Softly as I Leave You
In loving memory of our Mum,
Margaret Mullins
Eric Mullins
She
In loving memory of Margaret
Miguel and Christine Gonzalez-Lopez
Thanks Be To God
To commemorate their daughter's marriage.
Sasha Clarkson
To be chosen
In memory of my father Leslie
and grandfather Fred, who both
loved to sing and to entertain
Liz Flanagan
Bring Him Home
In loving memory of Dai Flanagan
Mair Rees
Pan F'or Nos yn Hir
In memory of a wonderful and loving husband who loved to sing
Cat and Nic Rees
Shenandoah
Dedicated by Cat and Nic Rees who grew up listening to their Dad sing